High Accuracy Capacitive Differential Pressure Transmitter
Get the latest price? We'll respond as soon as possible(within 12 hours)
Information
Product Description
Video
Download
Differential Pressure Transmitter
Introduction
AT3051 series Smart Pressure Transmitter with advanced, mature, reliable capacitive pressure sensors has been designed meticulously by combining advanced technology and digital capacitance measurement techniques. Its LCD can display many physical parameters such as pressure, temperature, current. It can be realized zero adjustment, range settings and other features by key-press operation, and easy to on-site tests.
AT3051 series Smart Pressure Transmitter supports HART protocol and can measure pressure, differential pressure, liquid level, flow, and other industrial parameters. It can be widely used in the petroleum, chemicals, electricity, and metallurgical industries, etc.
Features:
Signal output

Two-wire 4 ~ 20mA isolated DC signal superimposed HART, digital signal output

Power supply

DC 12 ~ 45V; during HART communication, the power supply voltage range: 15.5 ~ 45VDC; General working voltage 24VDC.

Load range

In HART communication, the resistance in the power circuit is ≥250 ohms, and the power supply voltage is ≥15.5 volts

Display

Intelligent LCD, backlight 5 digits and a half digital display

Zero and span shift

The lower limit of the measurement range is not lower than the lower limit of the large measurement range,
and the upper limit does not exceed the upper limit of the maximum measurement range, that is, the working range does not exceed
the sensor the limit value, zero position and range can be set at any corresponding point of 4 ~ 20mA.

Damping value

electronic damping adjustable range 0-32 seconds.

Fault alarm

when the self diagnosis program detects a fault, the analog output is higher than 20.8ma or lower than 3.9ma.

Temperature and lodging compensation

the computer collects temperature data and sends it to the transmitter for temperature
compensation.

Temperature indication

indicates the field ambient temperature value of the transmitter.

Working temperature

electronic circuit: - 40 ~ + 85 ℃, with LCD: - 30 ~ + 80 ℃

Sensitive element (silicone oil filled)

- 40 ~ + 104 ℃

Sensitive element (filled with inert oil)

- 18 ~ + 71 ℃

Safety protection

and circuit protection design, anti-static impact, surge current, strong overload protection function.
Pressure Transmitter Order Sheet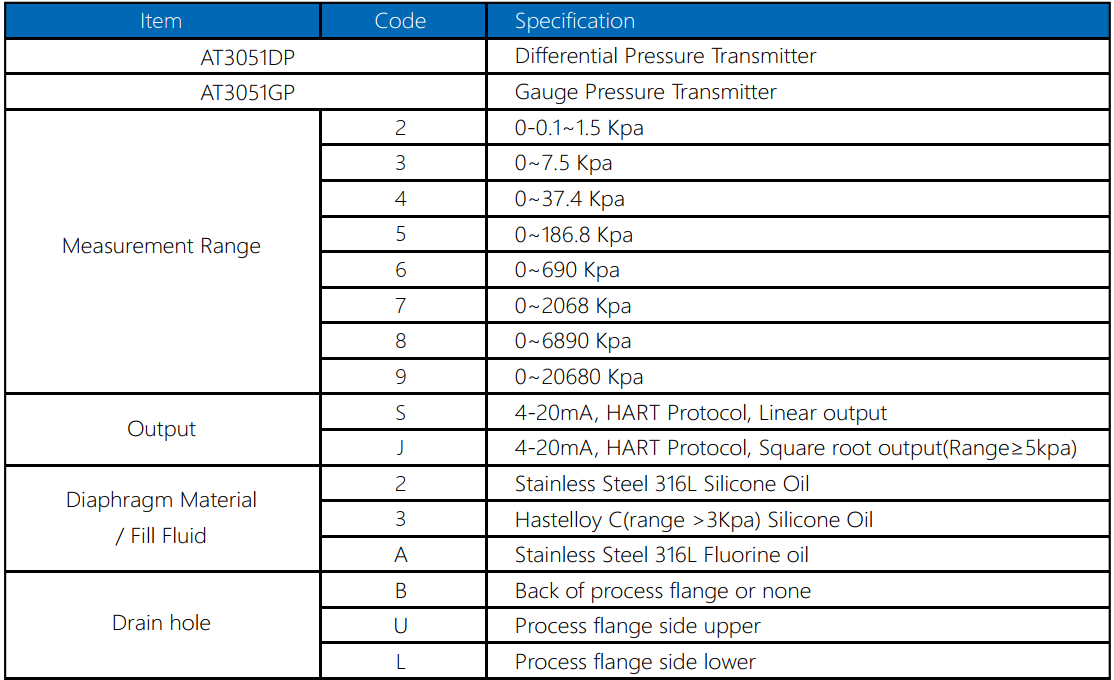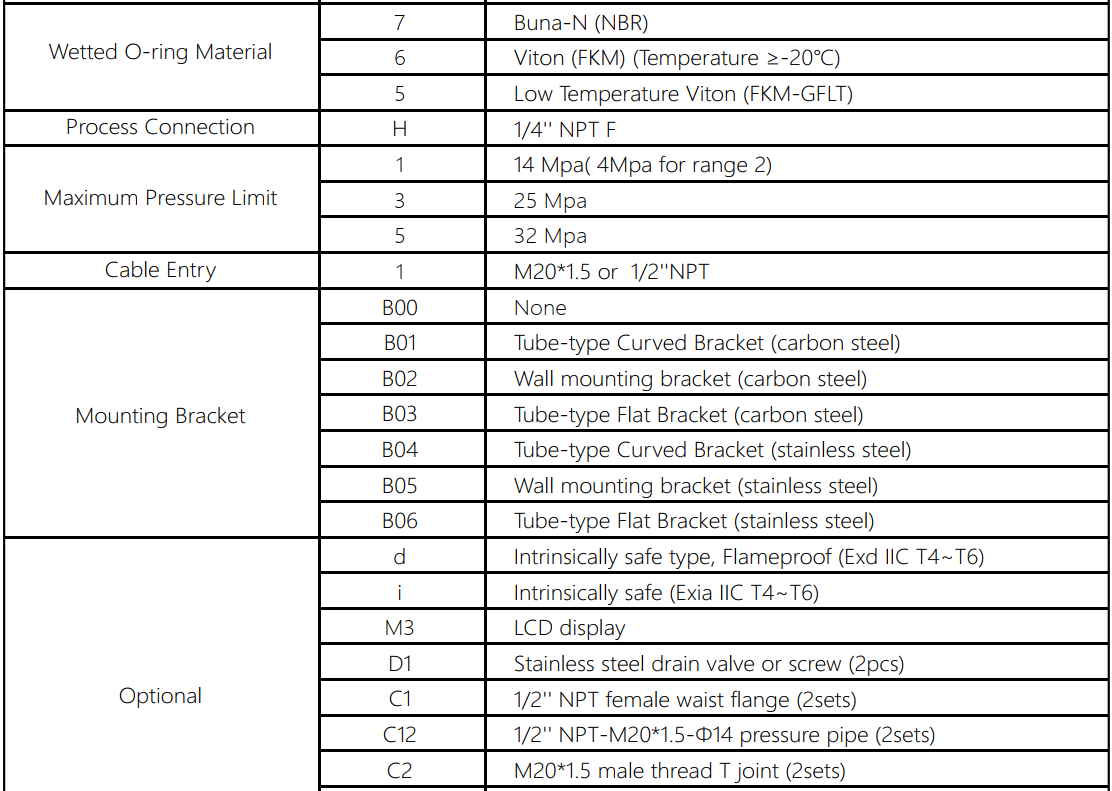 Production Line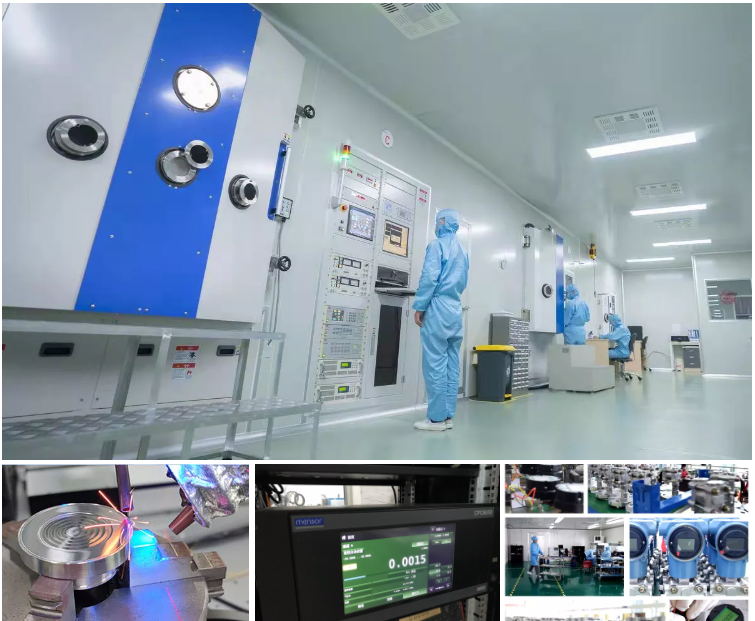 Ready for delivery
High Accuracy Capacitive Differential Pressure Transmitter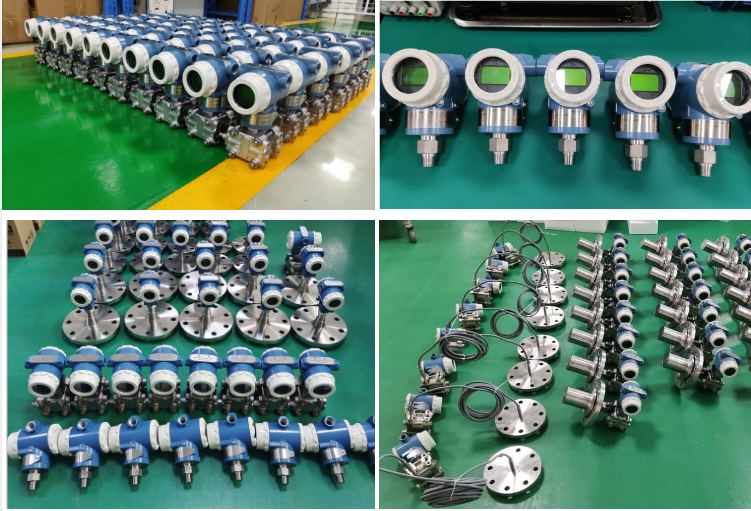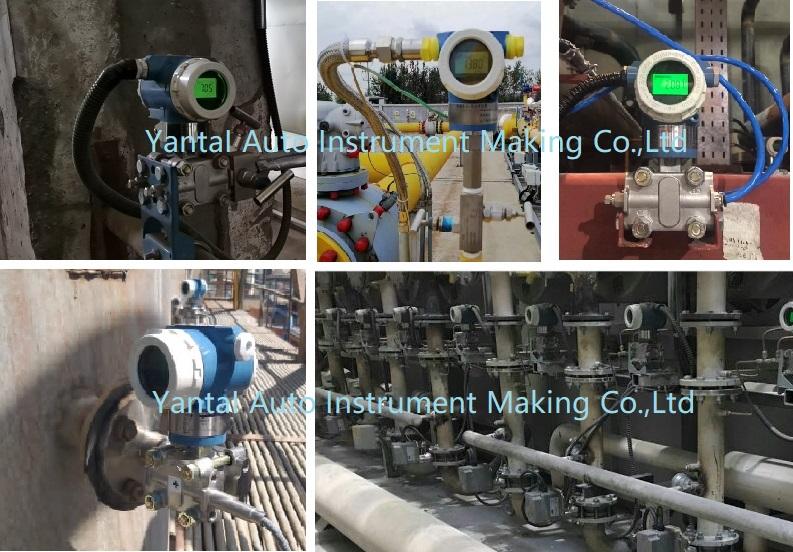 High Accuracy Capacitive Differential Pressure Transmitter
English LCD display
Anti-jamming circuit
Temperature compensation, lower temperature drift
Backlit display
4-20mA + HART output
Explosion-proof cast aluminum housing.

Wetted Parts Material as bellow:
1. SS316L (Standard Type)
2. Hastelloy C
3. PTFE
4. Tantalum

Application
Widely used in pharmaceutical, medical equipment, oil, gas, chemical, urban construction power, metallurgy, textile, aerospace, scientific research, leak detection, automation equipment and other fields.